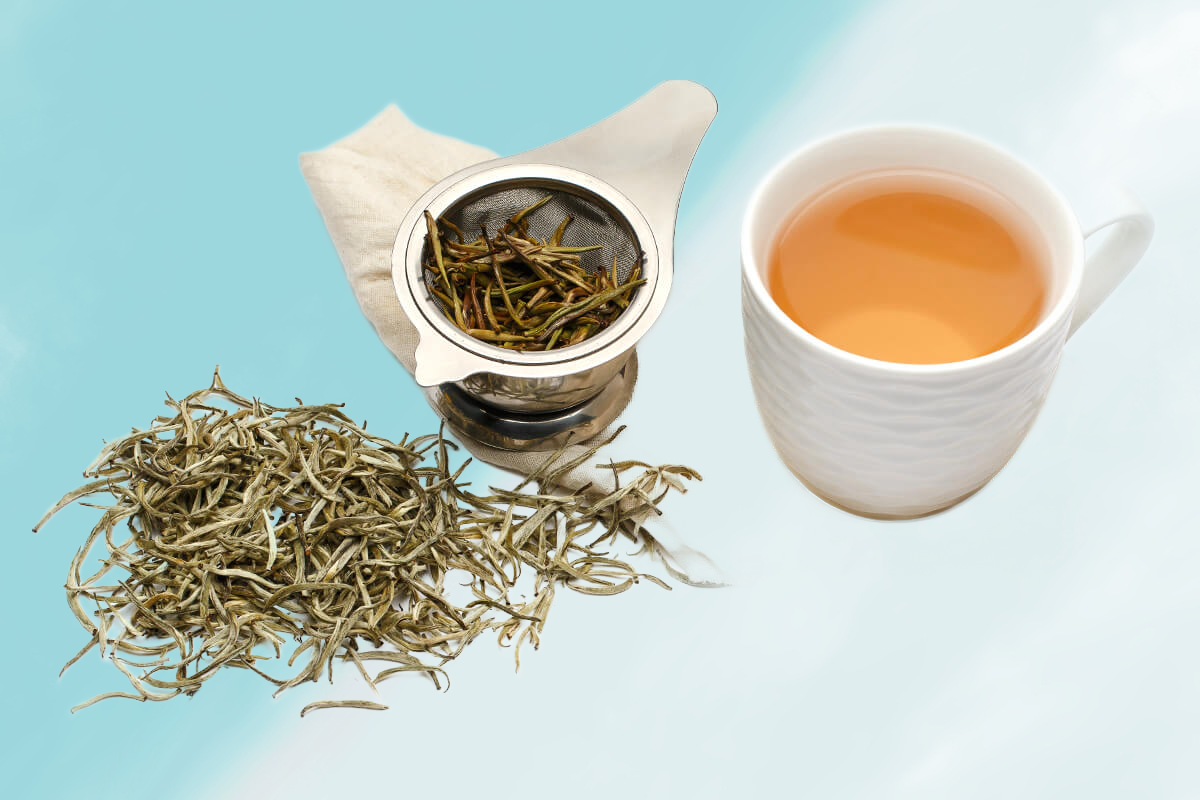 White Tea: what is, types and 3 summer recipes to keep cool
Did you know that White Tea boosts metabolism, helps burn fat, improves mood, and strengthens defences? White Tea is indeed an excellent ally for the summer. Alone or with cinnamon, it hydrates the body and helps prevent a bloated belly.
Unlike other teas, White Tea has the least theine, but the most antioxidants. In addition, it has a less intense flavour that varies from buttery to sweet or floral.
Bet on White Tea and make three summer-inspired recipes! Have fun and enjoy the summer.
What is White Tea? 
White Tea is made up of the leaves and young shoots of the Camellia sinensis plant and is harvested for only a few weeks each spring in Fujian, China. The leaves are usually picked in mid-March to early April and only on days when it is not raining or wet. Like champagne, White Tea can only be called "White Tea" if it comes from Fujian province. White Tea gets its name from a silvery colour covering the leaves and the closed buds, known as 'Hao'.
Discover 4 Types of White Teas 
1 – Yin Zhen Bai Hao (Silver Needle) – It is considered the rarest and most expensive variety of White Tea due to the fact that it consists of the best tea buds that are not yet fully opened. It contains 5% oxidation. When used in hot water, it has a sweet and light flavour;

2 – Bai Mu Dan (White Peony) – Created from the youngest buds and leaves of the Camellia sinensis shrub. It is cheaper than Silver Needle. It also has a more intense and incorporated flavour;

3 – Gongmei – Composed of the young leaves without buds that create a darker and more incorporated tea;

4 – Shou Mei – Results from the harvest of the upper leaves, more mature and withered by the sun. It has less quality compared to the other White Teas.
Pai Mu Tan: the exclusivity of White Teas 
White Tea Pai Mu Tan is the least processed tea harvested from Camellia sinensis. Compared to other teas, Pai Mu Tan is slightly oxidised, which means it has a low theine content. Nevertheless, it oxidises very easily. That's why tea lovers recommend drinking it right after it's brewed, or within the next 2 hours at most. Known for its floral aroma and sweet flavour, Pai Mu Tan is indeed a very delicate gem. In the White Teas category, Pai Mu Tan is the exclusive hand-picked tea. This is because for just one kilo of tea, about 30,000 tea buds are needed.
Pai Mu Tan is known as a powerful metabolism booster. Compared to Green Tea, Pai Mu Tan contains a higher concentration of catechins. In addition to slimming the belly, it increases concentration and improves mood. It is an excellent option to relieve stress and reduce fluid retention. Some studies indicate that Pai Mu Tan White Tea, by acting as a detoxifier of the body, promotes the proper functioning of the heart system.
3 White Tea Refreshing Summer Recipes 
Iced Tea with Pai Mu Tan, Gorse and Hibiscus 
Ingredients (for 1 person):
1 Tbsp Pai Mu Tan White Tea;

1 tablespoon of

gorse

;

1 Tbsp hibiscus flowers;

1 Litre (1000ml) of water;

1 Tea cup;

1 Lemon peel;

Ice cubes;

1 Metal straw;

1 Pan;

1 Tea strainer.
How to prepare: 
Start by placing the Pai Mu Tan, the gorse and the hibiscus in a pan. Next, pour a litre of boiled water over the ingredients;

Cover the pan and leave to infuse for 15 minutes;

Finally, strain and let cool slightly. When it's lukewarm, pour it into a tea cup and add a metal straw, some ice cubes and a lemon peel. And it's ready to serve!
Iced White Tea with Mint 
Ingredients (for 4 people):
Slices of a Lemon;

5 Sprigs of Mint (natural);

1 Litre (1000ml) of water;

Honey;

4 Tea cups;

Ice cubes to taste;

4 Metal straws;

1 Pan.
How to prepare:
Take a pan, place the White Tea sachets and pour boiled water;

Cover the pan and leave to infuse for 3 to 5 minutes;

Remove the sachets, add a little honey to your liking and stir very well. Then let it cool a little until it is lukewarm;

Finally, pour the tea into the tea cups and add some ice cubes with the mint and lemon slices;

Don't forget the metal straws.
Iced Tea with Coconut Water and Raspberries
Ingredients (for 4 people):
10 g of White Tea;

150 g fresh raspberries;

1L (1000ml) coconut water;

1L of water;

Honey;

Ice cubes to taste;

4 Tea cups;

4 Metal straws;

1 Jug;

1 Tea strainer.
How to prepare: 
Place the White Tea in a jug with water and mix separately, the coconut water with the fresh raspberries;

Next, add the coconut water to the jar and strain;

Mix well and add some ice cubes. If you prefer, you can add a little honey to your taste;

Place the jar in the fridge for 1 hour. And it's ready to serve!
Our suggestions for White Tea
White Tea with Exotic Fruits — A perfect blend with Sencha Green Tea and Pai Mu Tan White Tea with pieces of pineapple, pieces of papaya, marigold flowers, blue centaurea flowers and natural aromas of exotic fruits;

White Tea with Lemon & Ginger — One of our bestsellers with Pai Mu Tan White Tea (51%), Sencha Green Tea, ginger pieces (10%), lemon peels, lemon grass and natural lemon-ginger flavors;

White Tea Rose of Orient — An unforgettable journey through the West with Sencha Green Tea, Pai Mu Tan White Tea, Green Tea with Jasmine, rosebuds, rose petals, mango pieces, blue Centaurea petals and natural mango flavors;
White Tea Rising Sun — Wake up, take a deep breath and let yourself be carried away by the scent of this revitalizing formula featuring Pai Mu Tan White Tea (51%), Green Tea (Gunpowder), coconut shavings, sunflower flowers, red rose petals, pomegranate flowers and natural aromas of pomegranate and roses;
Yogi Tea White Tea with Aloe Vera Bio 17 Bags — The infusion for those who want to shine from within. Welcome! Enjoy this delicious combination of White Tea with the beloved desert plant known as the "fountain of eternal youth", Aloe Vera. Combined with hydrating Saffron and Chamomile that will make your skin glow inside and out. The delicate purity of this fine tea will fill you with beauty.
Ingredients: basil, white tea, lemon verbena, liquorice, jasmine green tea (green tea, jasmine flowers), cinnamon, rosemary, sage, turmeric root, fennel, cocoa shells, chamomile flowers, schisandra berries and 200 times concentrated aloe vera gel.
Bet on White Tea and until the next article. Share moments with the best teas in the world!